About John Milton Hay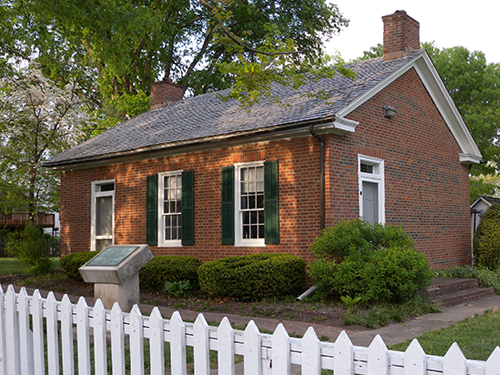 John Hay was a great American statesman, diplomat, author and poet, whose political career spanned over 50 years. He was born in this small brick home, on College Avenue, in Salem, Indiana, on October 8, 1838. John was the fourth of five children, born in the house, to Dr. Charles Hay and the former Helen Leonard.
Dr. Hay and Miss Leonard were married here in 1831 and they established their home in a building formerly used by the Salem Grammar School from 1824 to 1828. This school was conducted by the famous, early Indiana educator, John I. Morrison, whose daughter, Sarah P. Morrison, became the first female graduate of Indiana University, in 1867.
Dr. Hay opened his office in this house and worked tirelessly here, day and night, through the terrible cholera epidemic of 1833, trying to treat, care for and cure as many citizens as he possibly could. After experiencing some financial difficulties, the family migrated to Warsaw, Illinois, in 1841.
After John displayed considerable potential in his schooling, his Uncle Milton Hay, who was a practicing lawyer in Springfield, Illinois, took a special interest and sent him to Brown University, where he graduated with his Masters of Arts degree in 1858. After graduation, John returned to Illinois, where he began clerking in his Uncle Milton's Springfield Law Office, which was located next door to his friend, Attorney Abraham Lincoln's office. Here John began studying law and preparing for his bar examination. In 1860, when John Hay's childhood friend, John Nicolay, was appointed Lincoln's presidential campaign secretary, he was brought on board to assist with the enormous amount of correspondence.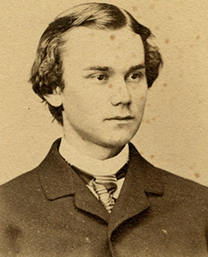 Once Lincoln was the President-elect, he chose the young Nicolay and Hay to assist him in Washington D.C., over more seasoned men, surely with the expectations of loyalty and because of the competence and compatibility they displayed during the election campaign. John Hay was admitted to the Illinois Bar on February 4, 1861, just weeks before Lincoln took office on March 4, 1861. Nicolay and Hay moved into the White House and shared a shabby little bedroom, where they were available to Lincoln 24 hours a day. The workload would have been a heavy burden for the two young men, since Lincoln worked 7 days a week, often until 11pm or later and took no vacations.
John Hay's charming ways won him favor with the Lincoln's and after the death of their 11 year old son, Willie, he became somewhat of a surrogate son to Abraham. According to sources, Hay grew to adore President Lincoln for his goodness, patience, understanding, sense of humor, humility, magnanimity, healthy skepticism, sense of justice, resilience and power, love of the common man and mystical patriotism. Many later noted that Lincoln too, loved Hay as a son and was very attached to him.
When Lincoln was reelected at the end of 1864 and the victorious war was winding down, Nicolay and Hay, both let the president know they wanted new assignments. They were both appointed to the U.S. Delegation in Paris. However, when President Lincoln was assassinated by John Wilkes Booth on April 14, 1865, Hay was stateside and arrived in the early morning before Lincoln passed. As the President died, Hay said he saw, "a look of unspeakable peace come upon his worn features."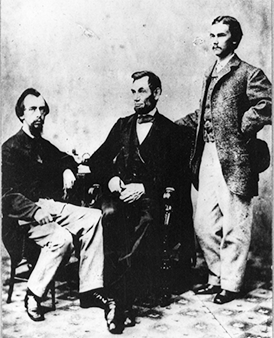 Those close to John Hay said he took Lincoln's death as a profound personal loss, like losing a father and the assassination erased any doubts he might have had about the greatness of Lincoln. In a letter to a friend, Hay deemed Abraham Lincoln the greatest character in history since Jesus Christ. John Hay's biographer noted that "Hay would spend the rest of his life mourning Lincoln……wherever he went and whatever he did, Lincoln would always be watching."
John Hay set sail for Paris in June of 1865 and served out his term as secretary of legation. He was later appointed to the delegation in Vienna and afterwards served again as secretary of legation in Spain, for President Grant's administration. After resigning his post in Madrid, Hay was hired as the assistant editor of the New York Tribune, in 1870, by Horace Greely, who soon proclaimed Hay as the most brilliant writer that he had ever had.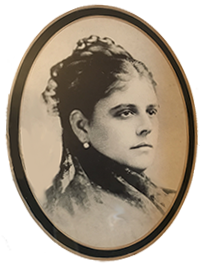 In 1874 John married Clara Stone, daughter of Cleveland multimillionaire railroad and banking tycoon, Amasa Stone. Soon afterwards, John resigned his post with the Tribune and moved to Cleveland's Euclid Avenue, "Millionaire's Row", in June of 1875, to oversee his father-in-law's financial interests. During this time, John wrote his only novel, "The Bread-Winners", venting his frustrations over the 1877 railroad strikes. Hay was apparently restless in his position and by 1878 was attempting to return to politics.
Through most of 1878 and 1879, Hay spent his time working with Nicolay, on their Lincoln biography and trying to secure a position with the Rutherford B. Hayes administration. In late 1879, his efforts paid off and he was appointed to the vacancy of the Assistant Secretary of State. Hay campaigned for James Garfield in 1880 and was consistently consulted by the president-elect on cabinet appointments, but was only offered the position of private secretary, which he declined. In March of 1881, John resigned his post as Assistant Secretary of State and spent the rest of the year, as acting Editor of the New York Tribune. He would not hold public office again for 16 years.
Amasa Stone committed suicide in 1883, leaving Mr. and Mrs. Hay very wealthy. They began spending several months out of the year traveling Europe and John began to focus on his Lincoln biography with Nicolay, particularly through 1884 and 1885. The ten volume biography was published in 1890. In 1884, John commissioned construction of a 12,000 square foot home in Washington's Lafayette Square that was dubbed the finest home in Washington, when it was completed in 1886. The Hays had also purchased a summer home in Newbury, New Hampshire, called The Fells.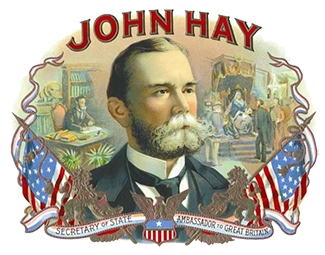 Hay maintained a close connection with the Republican Party and donated his financial support and personal efforts to their presidential campaigns. He was an early supporter of Ohio Governor William McKinley and by the end of 1894, he was deeply involved in laying the groundwork for McKinley's 1896 presidential bid. Once McKinley was elected, Hay lobbied for and secured the position of Ambassador to England. At the conclusion of the Spanish-American War, in 1898, Hay received a telegram from President McKinley informing him, he would be the new Secretary of State.
In 1900, Secretary of State Hay, successfully negotiated the "Open Door Policy" with China, ensuring free and equal trade opportunities for numerous countries. Later in the year, McKinley was reelected, this time with Theodore Roosevelt as his running mate. In September of the following year, McKinley was shot at the train station, in Buffalo, New York. When he died a few days later, it was Hay, who notified the new President Roosevelt of McKinley's passing.
Soon after, Hay noted in a personal letter, "what a strange and tragic fate it has been of mine, to stand by the bier of three of my dearest friends; Lincoln, Garfield and McKinley, three of the gentlest of men, all risen to be head of the State, and all done to death by assassins." Not two weeks later, Hay's dear childhood friend, John Nicolay passed away. Hay attempted to resign his post, but Roosevelt was insistent he remain on, as the senior member of his cabinet, and Hay relented.
In 1903, after years of negotiating treaties, Hay successfully passed legislation that afforded the United States the opportunity to start construction on the Panama Canal. Despite a strained relationship, Roosevelt asked Hay to stay on, after his reelection in 1904, which Hay inevitably accepted. At this point though, John's health was declining and he knew it. He told a friend that the death of his eldest son, Adelbert in 1901, had made him and his wife, old at once and for the rest of their lives.
By March of 1905, Hay was seeking medical treatment in Europe for a heart condition and after the course of treatment, he returned to his official duties. On June 23, 1905, Hay left Washington for the final time and headed for his summer home in New Hampshire, intent on taking a break. He would pass away there on July 1, due to complications with his heart ailment. John Milton Hay was laid to rest in the Lake View Cemetery, in Cleveland, near the grave of President Garfield.
Brown University's John Hay Library was named in his honor, as was the John Hay Air Base, in the Philippines and both his birth home, in Salem, Indiana and his summer estate, The Fells, in New Hampshire, have been historically conserved.
Additional References: The Library of Congress
Photo Source - By Copyrighted by Hollinger & Rockey - http://hdl.loc.gov/loc.pnp/cph.3a48473, Public Domain, https://commons.wikimedia.org/w/index.php?curid=1388478
About the Birthplace of John Milton Hay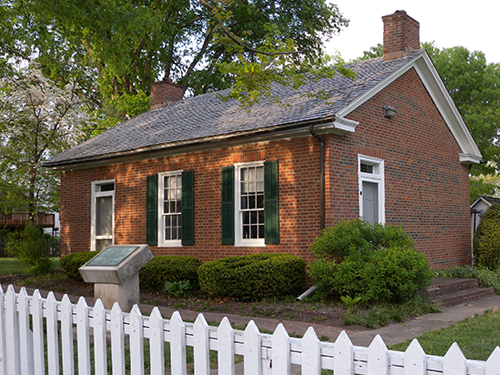 John Milton Hay was born in this house on October 8, 1838.
Hay's birthplace, a small brick house on South College Avenue, was built in 1824 for use as a school building. Dr. Charles Hay purchased the building in 1833. The Hay home was acquired by the Washington County Historical Society in 1967. The house has been restored and furnished in the 1840 period. The Hay birthplace has been a National Historic Site since 1971.
Become a Member of the Washington County Historical Society
Become an individual member or a family member of the Washington County Historical Society and support our mission of connecting people to our past by collecting, preserving, and sharing the artifacts of Washington County, Indiana.


John Milton Hay Life Connections
The Fells - The Hay's Summer Home in Newbury, New Hampshire
Explore and learn from our natural lakeside setting, our renowned historic buildings and gardens, and the historic achievements of three generations of Hay family visionaries.
---
John Hay Air Station (Camp John Hay) - Manila Philippines
The site was a major hill station used for rest and recreation, or R&R, for personnel and dependents of the United States Armed Forces in the Philippines as well as United States Department of Defense employees and their dependents. It was last run by the United States Air Force as a communications station.
With an average elevation of 5,000 feet (1,500 m), Camp John Hay - and Baguio in general - is much cooler and less humid than the rest of the Philippine Islands thereby providing a more familiar mild climate the typical American soldier knows back home. The facility housed The American Residence as well as Broadcasting facilities of the Voice of America.
In World War II, Camp Hay was bombed by the Japanese on December 8, 1941, captured by the Japanese army on December 27, 1941, and used for several months to house 500 civilian internees, mostly Americans, who were living in the area. It was recaptured by the United States Army in 1945.
The site was turned over to the Philippine government in 1991, and was converted into a leisure and tourist site.
https://guidetothephilippines.ph/destinations-and-attractions/camp-john-hay
---
John Hay Community Academy
A public school located in Chicago, Illinois
---
Additional Resources - John Milton Hay Related Books
The Man and Life Connecting Abraham Lincoln, Mark Twain, Henry James, and Theodore Roosevelt
---
The first full-scale biography of John Hay since 1934: From secretary to Abraham Lincoln to secretary of state for Theodore Roosevelt, Hay was an essential American figure for more than half a century.
---