Stevens Memorial Museum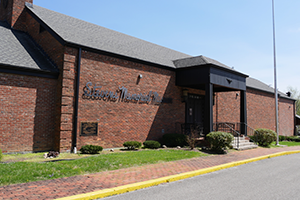 Built in 1970 as a memorial to preserve the community's history, the Stevens Memorial Museum is the centerpiece of the John Hay Center, founded by the Washington County Historical Society. The museum was designed to preserve the heritage of Washington County, Indiana and contains dozens of exhibits representing thousands of artifacts from generous donors.
About the Stevens Family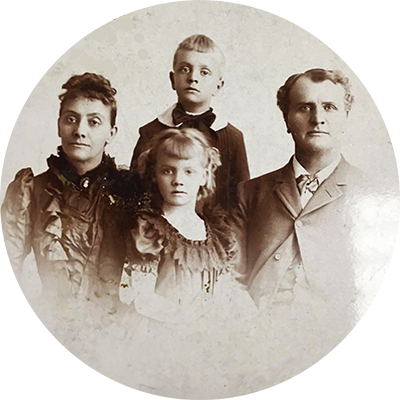 Pictured:
Warder William Stevens (father) Sarah Caspar Stevens (Mother) Ray Casper (boy) and Steven's Museum benefactor Warda (girl)
Warder William Stevens was born in Hardin County, Kentucky in 1845, shortly thereafter, his family migrated to Harrison County, Indiana, where he was raised and educated through his youth. After receiving his law degree from Indiana University, in 1867, Warder relocated to Salem to begin his professional career. Outside of his law practice, he served as the Washington County Auditor and Prosecuting Attorney, before purchasing the Salem Democrat in 1872. He was owner and editor of the newspaper for the next 11 years before selling out.
In 1879, he married Washington County native Sarah Caspar, they purchased a large farm at the north end of Main Street, on the southern banks of Brock's Creek. Here they built a beautiful home that they called "Brookside." It became the social center of town for many years. Warder became familiar with many of the pioneer families of the area and began recording their recollections of earlier times and events. He took a tremendous interest in the history of our county and continued gathering information and stories about its settlement for nearly 30 years, before he wrote and published the Centennial History of Washington County in 1916.
In 1905, Warder convinced the Old Settlers Society to become closer affiliated with the Indiana Historical Society, which led to the official birth of the Washington County Historical Society. He was also the driving force behind the establishment of the Washington County Fair Board in 1881 and the Salem Farmers Club in 1892. He served on the State Board of Agriculture and was president of the Indiana Horticultural Society. Once he was even nominated as the Democratic candidate for Indiana's Lieutenant Governor. Warder and his wife had two children while living in Salem, a daughter, Warda (our benefactor) was born in 1886, and a son Ray Caspar, born in 1889. The family lived here until 1909, when they moved to Baker City, Oregon, where Warder was the president of the Baker Mill and Grain Company.
In 1913, he donated his personal collection of several thousand historical artifacts to Indiana University, providing them with a nucleus for opening a museum. Warder passed away in 1927, while living near Memphis, Tennessee.
Memorial Museum Permanent Exhibits
John Hay Display, Stevens Family Display, Native Americans Display, Pioneer Artifacts Display, Indiana's founding and bicentennial Display, Early Lighting Display, Dairy History Display, Underground Railroad Display, Bradie Shrum Display, Local Advertising Display, Antique Jewelry Display, Music Parlor, Local Clubs and Organizations Display, Early Wedding Gowns Display, Early Quilts Display, Military Room: From the Revolutionary War to the War in Afghanistan, Early Lawyer's Office, Early Doctor's Office, Early Dentist's Office, Neal's Confectionery, Early Glassware, Dishes and China Display, County Courthouses Display, County Churches Display, County Educators Display, Local Sports Display Rooms; including County Racing History, Early Home Interior Display, with Sitting Parlor, Bedroom, Kitchen and Dining Room, Miscellaneous Room, with Early Radios, Baby Cradles, Musical Instruments, Spirit of 76 Display, Sewing Machines, additional Quilts and Coverlets, and other items, Antique Toy Room, 1910 Model T
Genealogical Research Library
The Genealogical Library also represents an extensive collection of documents and materials regarded by many as one of the Midwest's finest collections Dating back to the 19th century, records include birth, death, marriage, divorce and more.
Our genealogy library is free for members of the Washington County Historical Society. The fee for nonmembers is $5 per hour plus 25¢ to 50¢ per copy made.
To begin genealogic research we would need to know the family surnames and hopefully some indication of the subject's life dates. We are best suited for Washington County, Indiana residents, but do have some materials on all 92 counties in the state and most states in the country.

Become a Member of the Washington County Historical Society
Become an individual member or a family member of the Washington County Historical Society and support our mission of connecting people to our past by collecting, preserving, and sharing the artifacts of Washington County, Indiana.