Washington County School Bus Goes to Smithsonian Museum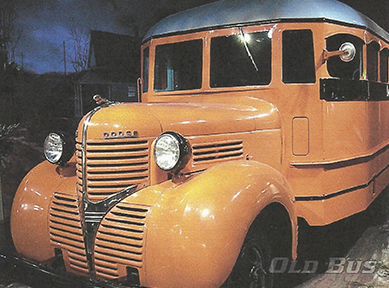 This 1939 Dodge School Bus has been on display in the "America on the Move" exhibit in Washington, D.C. since the 1980's. The bus body was built in 1936 by the old Carpenter Body works in Mitchell, Indiana and sits on a 1939 Dodge Chassis.
It was driven to the old Martinsburg Grade School from 1940-46 by the late Russell Bishop of Washington County. It was later sold to Lester Jones of Palmyra who gutted it and made a peddling wagon out of it selling groceries door to door for many years. In 1982, Carpenter Body Works again acquired the old bus and began a restoration of the bus which took many years to complete.
The restoration was supervised by Ollie Eager who had originally been Carpenter's Plant Manager in 1936. The bus has an all steel body making it much safer those earlier models. At that early date, school buses were painted a double deep orange unlike the bright yellow of today. The son of the original owner, Russell Bishop, Jr. remembers riding with his father on the bus route even before he was old enough to go to school.
In those days the seats sat with the backs against the outside walls of the bus body with another row of seats down the middle. Bishop said the restored bus at the Smithsonian in 2003 and said it look just like it did when his father drove it except the restored seats were covered in a brown/tan leather but the original seats were black.
From Washington County to Washington D.C., Quite a trip!